This post has been updated for 2019
Are you struggling with building backlinks for your website? Maybe you're spending hours running link building campaigns only to get zero results. If this sounds like you, you're not alone.
Backlink building is one of the most effective ways to grow a business online, but it's also one of the greatest struggles for marketers... but it doesn't have to be.
Here are 10 tried and true tactics for generating high-quality links back to your site and/or blog.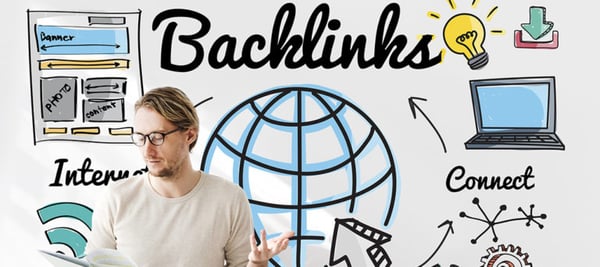 1. Guest Blogging
Guest blogging is a great win-win situation as it contributes content to someone's blog while also promoting yourself to their audience.
Building guest blogging connections and getting your unique content posted on other sites will help broaden your brand's reach and drive traffic back to your website. Remember, you can increase your chances of getting a link by providing high quality, value-driven content.
For more insight on the topic be sure to check out the article below:
2. Check Your Competitors' Backlinks
Leverage your competition to find where they're building backlinks from. Then, contact and show these sites your own content. Make sure you're offering much higher quality content than that of your competitors. If the referring domain sees that your content is indeed better, they might link to you since you provide more value. As a bonus, this can trigger Google to rank your content higher and higher, ultimately beating your competition.
A great tool to help you find what domains are linking to your competitors is SEMrush's Backlink Analytics.

For more information about link building, check out the articles below:
3. Create and Publish Newsletters via Email or Social Channels
Publishing a newsletter is a great way to attract readers and even client attention. Content that is quality driven, interesting, and focused on solving a certain pain, need, or interest of your audience has higher chances of being shared. The more value you provide the reader, the higher the chance they link back to your site in an upcoming blog post. This ultimately leads to more higher quality backlinks, which leads to an increase in search engine traffic.
For more information on this tactic be sure to check out the link below:
4. Create A List Post Offering Your Products or Services
How often do you go on the internet to search a pain, need, or interest? (Hint, it's a lot!) Why not create a post that offers a list of solutions your audience might have?
By creating a post that aggregates your products (their solution,) you're providing a ton of value to the reader. Be sure to add a brief description to help visitors understand what your offering provides and don't be "sales-y" or pushy. Simply show them how your products can offer value by solving a certain need or interest.
5. Create High-Quality Guides
A great backlink building tactic to generate awareness to your site is by creating guides that include influencers insight coupled with imagery (graphics, icons, etc.) Influencer content gives your guide legitimacy, and for the influencer, participating in a high-quality guide give them an incentive to share on their sites. An influencer wants to protect their reputation, which they'll do by providing your high-quality content.
Guides don't necessarily have to revolve around influencer mentions, you can create them by curating some of your own work and experiences. Make a list of evergreen content you've published, and create a guide by repurposing your own content. Remember to make it understandable, easy to read, and most importantly, valuable. Such pieces of content are perceived as high in value and are more likely to get shared.
6. Give Great Testimonials
Oftentimes, providing high-quality testimonials can be a win-win for both a referring domain and yourself.
Testimonials are very valuable to any company/website as it is considered to be an authentic piece of content from a person that genuinely enjoyed your product or service. The more social proof your business can provide, the more your audience will trust you.
Generating testimonials can be tough. Pitching a website and providing a testimonial in exchange for a backlink is a win-win for both parties.
7. Create Expert Roundup Posts
Expert opinions are oftentimes perceived as high-quality content. Compiling insight from industry thought leaders and influencers can help your website generate links to your website. When other bloggers find it valuable, they'll be inclined to share it within their content. Furthermore, the experts that participated will want to share the piece of content to their followers, as it's a form of social proof for them.
The link below provides further information on the matter, as well as some additional insight for getting backlinks:
8. Utilize Site Directories
Oftentimes simply visiting sites that have directories or lists for linking, and asking the owner to include your content or blog on the list can go a long way. Essentially you are providing them with additional options of highly valuable content, and as your posts prove to be higher in quality than those of competitors or other sites, the chances of getting more backlinks might increase exponentially.
The article below provides some pretty valuable tips on backlink building tactics, so be sure to check it out:
9. Use the Power of Ego
Large companies and influencers often come with large egos, and love to be talked about and praised. If you mention them in one of your content pieces, be sure to also pay a small homage (without seeming too needy.) For example, you can let people know what the certain company/expert/influencer has accomplished, or mention an award they were given in a blog post.
This type of content is simply expanding your network while giving free and positive press/traffic to someone in your niche, which oftentimes is rewarded with a backlink to your article.
The below article has some pretty interesting insight regarding backlinking, be sure to check it out:
10. Create Content with Statistics and Data
Content that incorporates sound data and niche/industry stats are always very valuable (assuming of course that proper research has been made, and the information portrayed is correct.)
Such pieces of content provide a valid source of information and insight to a (potentially) referring domain's visitors. It is also a win-win as it provides greater validity for the sharer, improving their authority as well as yours.
Are you currently using any tactics that are not on the list? Do you have any questions? Let us know in the comments!
---
As always be sure to check out the links below for more digital marketing insight: