2018 had major updates, from SEO changing the way it ranks pages to new features in social media. As we prepare to grow our business in 2019, the same tactics we used a couple years ago may not work today. So before diving head first into online growth tactics for 2019, let's take a small step back and look at all the important social media updates that happened during 2018.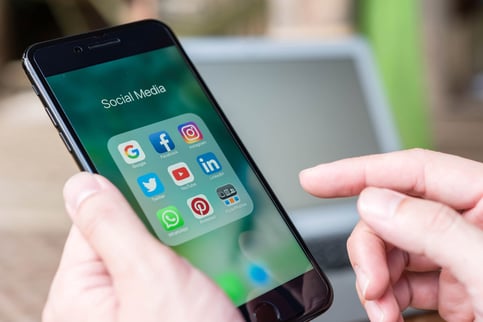 If you want to learn how these social media channels changed in 2019, read below:
YouTube

Facebook

Instagram

Twitter

LinkedIn
YouTube
If you're planning to use YouTube for advertising and monetization in the New Year, 2018 held some pretty significant changes you'll want to be aware of; including video vetting changes, YouTube Ad updates, and the introduction of channel memberships. Let's dig a bit deeper into each one of these.
Google Preferred Video Vetting Changes – February 2018
Controversy about certain YouTube videos has lead Google to set new vetting policies to protect brands from having their ads shown on questionable content. Channels will now need to have 1,000+ subscribers and 4,000 hours of watch time within 12 months in order to qualify for adverts on their videos.
Channel Membership – June 2018
YouTube introduced the Channel Membership (the "Join" button) option during the summer of 2018, allowing content creators to charge a recurring, $4.99 monthly fee. Viewers who subscribe to this will be given access to unique custom perks, such as exclusive live-streams, extra videos, shout-outs, and more.

Youtube Ads Updates – July 2018
There were also significant changes to YouTube advertising, focusing on increasing reach and conversions.
TrueView (for reach) – This new feature couples the streaming and simplicity of impression-based buying, and focuses on raising awareness through a broad set of customers.
TrueView (for action) – Also known as YouTube for Performance, this feature was created to drive conversions on your site. A prominent CTA appears throughout the video (branded banner) and even remains after the video is finished.
Maximize lift bidding – This new Machine Learning process was conceptualized during mid, 2018 and focuses on helping companies reach consumers that are more likely to consider their brands.
Facebook
Facebook Ads are an extremely powerful tool for business growth, and a great way to get seen on the current king of social media; but a lot happened during 2018 that brought some pretty important changes to the tool.
Facebook Announced its Brand Collabs Manager – July 2018
If you're interested in incorporating influencer marketing in your 2019 campaigns, Facebook officially launched its "Brand Collabs Manager" dashboard in June of last year. The purpose of this tool is to help brands find and connect with relevant influencers. For more information, check out the official page here.
More Transparent Ad Metrics – February 2018
You can now easily determine how much weight to place on specific metrics, Facebook has decided to label some metrics in Ads Manager as either "in development" or "estimated." These new labels can be found in the "tooltips" section of the Ads Manager reporting table, as well as in the customization column for ads on Facebook, Instagram, and the Audience Network. But what does this mean?
Metrics labeled as "estimated" are calculated based on modeling or sampling, and can provide guidance for outcomes that can often be hard to quantify precisely (one such example is "real-time" results.)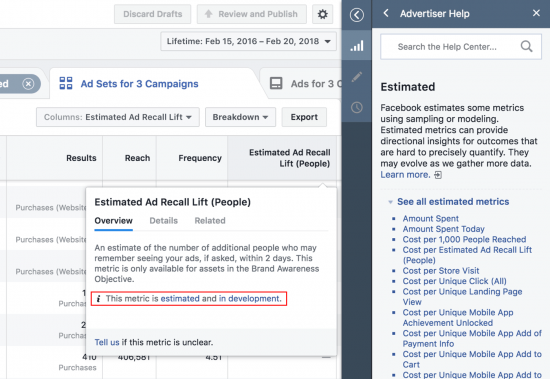 Image Source: SmartInsights
A New Level of Transparency for Ads and Pages – June 2018
Higher transparency in Facebook's Ad Metrics is something that has been asked for by brands for quite a while now, and finally, Facebook delivered. Further instigated by the Cambridge Analytica scandal, Facebook is now providing an additional level of transparency of ads and pages.
The increased availability of information does not only mean increased accountability for advertisers, but it also created a competitive advantage (or detriment) for brands. What do we mean by that?
Well, since Facebook Ad data is now readily available for you to see, you can easily monitor what your greatest competitors are running, and reverse-engineer, counter, or even "copy" and improve for yourself. While this sounds like an amazing competitive advantage, it also means that your competitors can do the same to you.
To look at current Facebook ads a business is running, go to their business account page and on the left column, click 'Info and Ads.' If the business isn't running any Facebook ads, this page will be empty.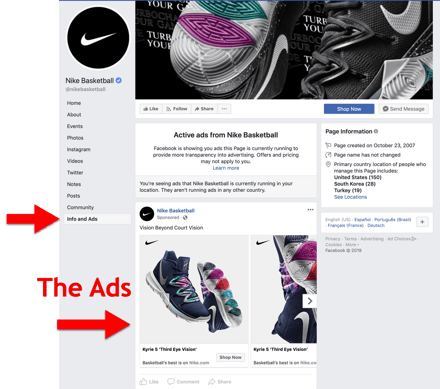 Facebook Adds New Data Security Provisions
In the wake of global data disasters, such as the Cambridge Analytica scandal, Facebook also introduced new requirements for the use of the Custom Audience feature. As advertisers, you will now be required to specify where you obtained the data for your custom audience upload.
"When uploading a customer file, advertisers will need to indicate whether the information was collected directly from people, provided by partners or a combination of the two." The implication for this is that ad viewers can see why and how they've been targeted by your ad.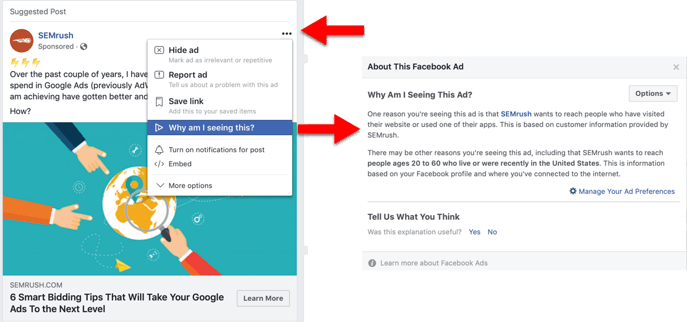 New Augmented Reality Ads – July 2018
Facebook decided to add augmented reality to their advertisers' arsenal by providing an alternative way to promote and show off their new line of products. This is especially useful if you're trying to advertise retail products, as it'll enable users to virtually try on different products, like sunglasses etc, directly from their news feeds. This new feautre is extremely creative and can be a major asset for e-commerce businesses!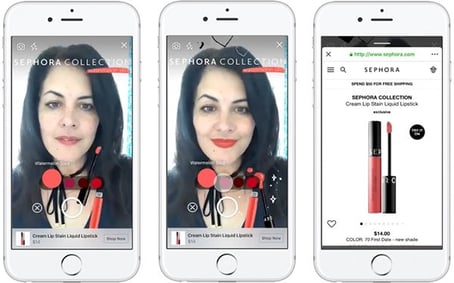 Image Source
Algorithm Change Focusing On Less Branded Content
Another very important thing to have in mind is the new change to Facebook's algorithm, putting less emphasis on branded content, and favoring/prioritizing content shown from friends, family, and groups users are members of.
Facebook Keyword Snooze – June 2018
With Keyword Snooze, users can now block certain keywords from their newsfeed for a set amount of time, to avoid receiving posts surrounding a certain topic. While this feature is mainly used for more general topics, it can directly affect marketing. (Users who have blocked certain keywords you are using in your posts won't be seeing your content.)
Live Video Mode Testing for Sellers to Promote Products
Facebook is testing a dedicated Facebook Live mode that enables Pages to showcase products in their stream, which viewers can then easily purchase via screenshots. While the exact details are not readily available, the process will likely involve a screenshot button viewers can tap during the broadcast. The option essentially aims to introduce the engagement benefits of Facebook Live into the e-commerce experience, helping businesses sell more.
This feature is currently not available to everyone, but there is a waitlist a business can currently join to try it out.
Instagram
Instagram can be a powerful tool if used correctly. If you are considering utilizing Instagram for your 2019 campaigns, here are some interesting changes that came to the tool in 2018 that you need to be aware of.
Launch of IGTV – June 2018
With this new feature, videos up to 60 minutes can be published. (Note, for smaller Instagram accounts, the limit is 10 minutes.)
One thing to keep in mind is the dimension and size of the video. Instagram suggests that videos should be vertical (not landscape) with an aspect ratio of 9:16, and have a minimum frame rate of 30 FPS with a minimum resolution of 720 pixels. Finally, the upload file size cannot exceed 650MB for 10-minute videos, and 3GB for 60-minute videos.
Shopping Tags for Stories
If you are planning on using Instagram for social selling in 2019, Shopping Tags for stories is a feature you'll want to become familiar with, as it'll enable users to shop from directly from your page.
Image Source
Click here to read more about how to set up Shopping Tags for your Instagram account.
New Shopping Features - November 2018
Instagram also added new shopping features for business pages. More specifically:
Users can now create shopping collections by saving products that have been tagged in brand posts.

Brand profiles can now add a shopping tab so visitors can view all the tagged products.

Users can now add shopping tags on videos.
Promoted Stories
In November of last year, Instagram was testing a "Promote" feature for the Stories ad format that is said to work similarly to the "Boost" feature in Facebook; allowing business accounts to pay in order to get their Stories promoted in their audiences' feeds.
According to a TechCrunch report, the feature is being tested globally, but no specific date has been given for an official launch.
Twitter Advertising

Twitter stayed pretty much consistent throughout 2018, but one new update might help you gain a competitive advantage in 2019.
Twitter Launched Its Ads Transparency Center
The new Ads Transparency center will enable users to view all the ads being run by any Twitter profile at any given time. You can try the feature out here. While you won't be able to see every single detail, this feature still allows you to see all ads being promoted by your competitors. Data is updated every 24 hours, however, if an account has not promoted anything within the last 7 days, no data will be shown.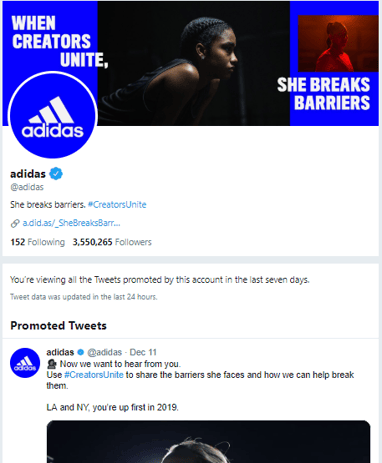 LinkedIn
Finally, if you haven't already, LinkedIn might be a tool you will want to take advantage of during 2019. Not only is it the best relationship building tool available, but it also received some interesting updates during last year that might make it more attractive to you as a marketer.
LinkedIn Video Enhancement – March 2018
LinkedIn introduced 2 new ways to enhance LinkedIn videos. You can now add Stickers (for sharing everyday work moments,) but more importantly, users can now add text. The latter is great adding context into your videos, and allowing people to still understand what the video is about, even when sound is turned off.
Campaign Manager – November 2018
Campaign creation using LinkedIn will be different in 2019. With the update of the Campaign Manager, ad creation will now be objective based. Further, it will also include a preview feature, and users will be able to forecast the outcomes of their ad (similar to how Facebook Ads work.)
LinkedIn Pages – December 2018
If you haven't been on LinkedIn for a while and are planning to use it for 2019 campaigns, then you should definitely check out their new Pages. The platform has been completely rebuilt and re-launched and now allows companies to better create a community and connect with followers. More specifically, a Content Suggestions tab has been added to Pages to allow brands to more accurately cater to their target audience. With this you will be able to see what topics are currently trending, and develop strategies on how to approach your ideal customers, and create relevant posts.
(Rumored Testing) Reactions and Stories – November 2018
Rumor has it that LinkedIn is working on features similar to Facebook's reactions (aimed at increasing variance of post interaction (including 'Insightful' and 'Support' options)) and Stories which will function much like those of Instagram, including video recordings, filters, and text.
One Last Thing Before You Go
More and more businesses are getting serious about using social media for online growth in 2019. But we all know it's not easy to build a targeted audience and often underutilize the tips, tricks, and features of social media.
This is precisely why developing a strong and consistent social media marketing plan is crucial. While we have a multitude of articles in our blog aimed at helping you refine this "journey" (see below,) we also came across a pretty interesting book by Andrew Macarthy called "500 Social Media Marketing Tips."
In this book, the author focuses on helping you create a robust social media marketing plan, goes over the best types of content you should be posting, and provides a series of actionable tactics for marketers of all levels for success on all the major social platforms.
The book is written in an easy to follow concise manner that can be digested either in small daily intervals, or during multi-hour reading sessions. We definitely recommend you check this one out.
You can find more details about the book and the author here.
And there you have it, the most important changes from 2018, that marketers need to know in order to succeed in 2019. Are there any we missed? Is there anything you would like us to dig deeper into? Let us know! And as always, feel free to join our Facebook Group for updates and community discussions.
Be sure to check out the articles below for additional marketing insight: