In a perfect world for marketers, your business would be full of potential leads, your website would get thousands of views, and your social channels would be full of engaged followers!
Boy, that sounds great but... can that actually exist?

What if we told you, there actually is a path that could achieve all that… but you're going to have to roll up your sleeves and get to work?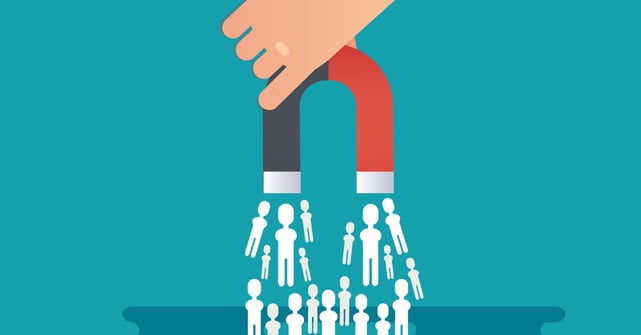 Believe it or not, all of this can be accomplished with a gamified or viral contest. Let's take a look at the steps to get this created.

Step 1 - Set Your Objective
Just like any other campaign, you're going to have to start with an objective. What are you trying to get out of this? To help illustrate this process, we'll share some of what we focused on:

Test the contest process

For the first time we ran one, we wanted to test the process. In effect, we created a mock contest while preparing for our main contest. (You'll understand why this is important when you read below).

Try and generate 1000 leads

We honestly weren't sure how many leads this would bring in since it was our first time. 1000 seemed possible based on what other's noted online, plus it is seems like a good target to benchmark against.

Understand all the "backbone" of the contest.

There are tons of stuff that needs to be setup (nurturing emails, monitoring the contest, etc.)
Once you figure out what you want to get out of this, the objective will align the remainder of your process.
Note: as you get the process setup, it's normal for your objective to change.
Step 2 - Generate Initial Awareness
The greatest benefit of running a contest is the gamification factor and the ability for it to go viral. We'll explain more a little later, but in essence, to gain more "points" toward winning, participants complete more actions such as tweeting, posting on Facebook, etc.
However, before that factor even comes into play, we have to make sure the contest gets an initial set of eyeballs.
If there's one element of the contest that's the most important, it might have to be the kickoff and driving the initial traffic flow. With an eye toward this process, focus on things like:

Email - Size of your list and open rate

Social - Size of your social following, ability to engage with them, and your posting capabilities.


You can get analytics to help support this via Twitter analytics and Facebook analytics.

Other traffic elements to focus on:

Your ability to generate reach/clicks via Facebook ads

Your Instagram capabilities / reach / impressions of your posts


Existing relationships/influencers which you can partner with to share you contest. How large are their email list and/or social reach?
For more ideas on generating awareness to your contest, the folks at Vyper spell it out with this guide.
Based on your assessment of the points above, you can project the volume of views and traffic your contest could get. In terms of conversion rates, let's assume that for every 100 views to the contest page, you would get 10 leads.
Note: this is a very modest conversion rate. Some contests have seen conversions from 45% to upwards of 70%. It all comes down to getting in front of your target audience and providing the right incentive for them to participate.

By this stage, you should have an idea of who your audience is, the topic of your contest, and the initial visibility it'll get.
Step 3 - Finding Partners & Picking Prizes
Quid pro quo; let this be the motto for picking prizes and partners. Basically what this means is, "I'll scratch your back if you scratch mine."
What you'll be telling these partners is, I'll promote you to a highly engaged target audience in return for you providing a good or service. This is why it's important to understand your distribution and projected awareness before proceeding.
So how do you find these partners?

Perhaps the perfect candidates are people and/or businesses who are actively seeking visibility. Some telltale signs are:
They target the same target audience you're trying to reach

Benefit for you = they provide a prize your audience will want + all contest leads

Benefit for them = awareness to their product/service/etc.

Small social following and make up for it with paid ads


Their promoting their tool/service/etc. at a discount on a third party site such as Stack Social or App Sumo

They're launching a new product/service that can greatly benefit from showcased to their target audience.
At this point, you need to get your creative marketing hat on. Think for a second, if someone approached you for an exclusive opportunity, would you reply to that email or ignore it.
Here's the email template we used: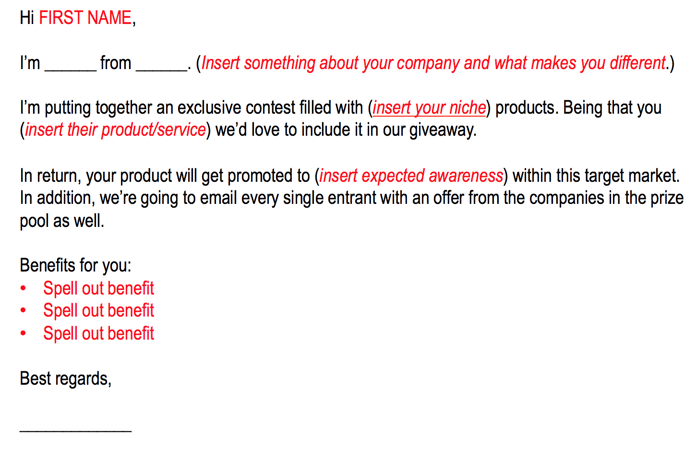 As you saw in the email, we noted we're going to email every entrant with an offer from that company. This could benefit your contest in a couple ways:
It entices partners to be part of the giveaway, even if they don't have a prize to give to the grand winner. The coupon potentially helps generate more sales since entrants would be getting a discount.
Gives partners more visibility. Remember our motto of quid pro quo? You're giving them another layer of visibility. In return, partners would be more willing to share across their social channels.
At this point, you may think you have a solid plan for implementing a contest... and you might. However, here are some problems we ran into.

What We Didn't Expect...
The first time we ran a contest, we had a mock contest laid out to get a "fuller understanding" of the process. The trial we were hoping to run was on a side project we're working on. It's a sports page in which we actively discuss... well, sports. (Feel free to check us out on Instagram: @startbenchcutsports).
The mistake we made: we created an active link to the contest page.
When you're creating a contest, the user who's logged in is able to see the page; the link itself is not active. Our rookie mistake was to activate the link thinking no one will see it, since we weren't actively marketing it. We were wrong! It was seen, people started joining and it made us pause on all our planning and take the ball and run with it. (How's that for a sports pun?)
What had happened was, something or someone (we're heavily leaning on a bot catching the contest page), found the active link and promoted on Reddit.

Thankfully, we had some basic planning. We had:
A prize laid out

The contest page set up

A list where the leads entered

Email workflow

A heatmap + visitor session recording
Now we were left a shaky distribution plan and needed to get eyeballs on our prize. Since social was our most engaged audience, we decided to promote heavily on those channels; more specifically Instagram and Twitter.
Our Stats:

While we didn't hit the benchmarks we set out, we were actually pleased with our results given our first contest was a modified mock-up, with no real marketing plan!
We generated 508 leads in a span of less than 7 days.

Gained a farily robust understanding on how to more effectively plan the process going forward

Although the conversion rate is low (other contests have seen much greater results), it highlighted multiple elements in our process which we could enhance


Gained 1,000+ views per day to the contest page
Now we can talk in great detail about the specific results the contest generated for us, but we'll give you a brief run down of what we saw. The first thing we took a look at was the source of our traffic.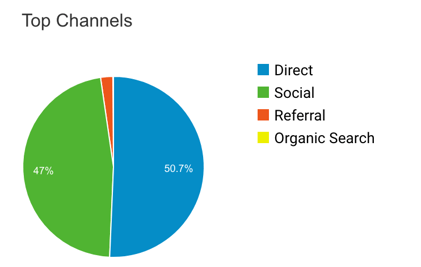 What to note:
About half our traffic came in via social. This makes sense because we were promoting it via Instagram and Twitter

More than half of our traffic came via direct. This traffic is traced back to referral links and URLs we shared on niche specific forums like Reddit.
Secondly, we examined the platform contestants were using. In this day and age, we expected mobile to lead all platforms used.

Synopsis
All in all - 500+ leads in less than 7 days with no established marketing plan at a cost of $0 - isn't too bad! If you decided you wanted to run a contest, you should be able to:
Pick an objective.

This is extremely important! As you saw, things took a turn for us, but luckily we were able to turn lemons into lemonade.


Understand and forecast your initial awareness.

Think about the partners you want to reach out to, whether its for promotion or to have them be part of the prize. Regardless, you can expect some partners to share the contest with their audience

Pick a conversion rate that seems logical and stick with it. As your contest rolls on, you can adjust accordingly.

Be prepared for anything!

As you saw, we had to change our whole marketing approach in a short period of time. Just because something went wrong, doesn't mean it can't benefit you.
There's still a lot of things we over looked in our contest; and since mistakes are made to be learned from, we'll continue to share insight as to how you can generate hundreds if not thousands of leads at low costs. We dig into future details to help you drive results. This will include:
How to create and develop a contest page

Gamification and entry types

How to follow up and nurture your list of leads.

Understanding the demographics of your contest.
---
Enjoy our content? Be sure to follow us on Facebook and Twitter. For more reading on how you can make an impact with your online marketing, see the links below: