When we think of creating a sound content marketing strategy, the first thing that comes to mind is content creation and distribution. While this is 100% correct, there is much more we can do to improve our content marketing endeavors.... Enter, the content audit!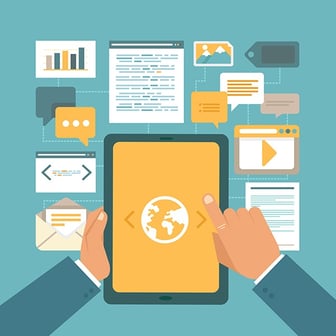 According to a study carried out during 2016 by Curata.com, a staggering 37% of content marketers have never completed a content audit. For those of us who belong to that 37% and haven't even heard of the phrase Content Audit, it is essentially an in depth analysis of your existing content that:
Helps you see the kind of content you have created

What has worked

What is currently not successful at all

How you can leverage older posts to boost your current strategy
So, let's look at 5 essential steps you will need to take in order to perform a successful content audit.
1. Have a Plan and Define Your Goals
While content audits are extremely useful, they're also time consuming, so set your objectives from the very beginning to help streamline your process. You want to be organized, focused, and not bite off more than you can chew.
So what are some goals you can aim to achieve with an audit?
Optimize for SEO by:
Identifying what has the potential to rank for the top SERPs.
Identifying which pieces need to be updated, enriched, edited, or completely removed from your blog/website.
Identify blogs without, or with outdated internal links.
See how you can increase engagement by:
Identifying the types of posts and topics your audience engages the most with.
Improve Conversion Rate by:
Identifying the best performing lead generation content.
Identifying the most efficient content types for each stage of the Buyer's Journey.
Remember: Each goal should always be coupled with a metric, so when you're looking for articles that can help with engagement, you'll want to be looking at shares, likes, comments, retweets etc. If you're trying to find SEO potent content, you will need to be looking at organic traffic, backlinks, keywords used etc.
2. Create an Inventory
Before jumping right in, it would be wise to first decide the type of content you will be auditing. Most common candidates are blog posts, website copies, newsletters, product descriptions, landing and thank you pages, videos, offers etc.
So how do you create an inventory of the content you want to audit?
Start by gathering relevant URLs
The most effective way to do this is to use a website analytics tool of your choice. We like to use SEMrush's Content Audit tool, as it can list relevant URL categories based on sitemap data.
Note: If you currently don't have a sitemap or know how to access it, you could always use a sitemap generator tool such as XML-Sitemap.com.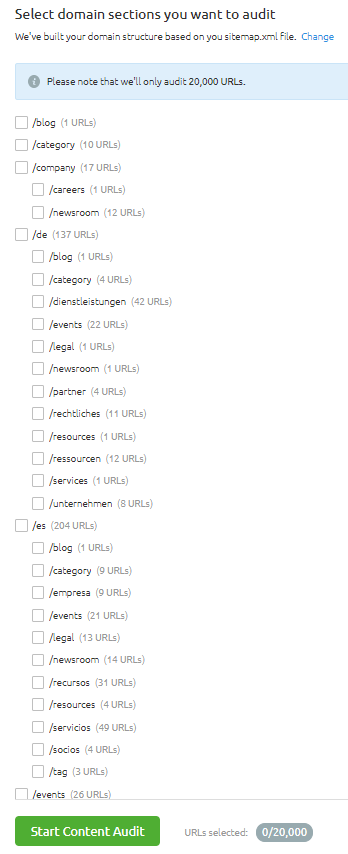 3. Catalog Your Content
Once that's complete, make sure you catalog your URLs you want to audit. This could either be done manually in an excel sheet, or you can use a tool.
Some categories you might want to consider are:
Content format

Content type

Content metadata

Publish dates (and update dates)
Depending on your goals we mentioned above, you might also want to add additional categories such as buyer journey, funnel positions etc.
4. Collect and Analyze
Until now, most of the things mentioned could be done manually, however, collecting and analyzing all the relevant data can get very tedious and complex so using a tool (or a combination of tools) here is highly recommended (it will save you a lot of time and headaches).
Essentially the data you will be looking to gather here includes:
Organic and/or paid traffic

Metadata

Keywords

Backlinks

Sessions and average session duration

Bounce rates

Social data such as: likes, retweets, comments, +1s
Again, the data you will be collecting is highly related with the goals you will ultimately looking to achieve. That's why the first item on our list was so important.
Some tools that can come in handy for data collection are:
Google Analytics: Great for understanding how content is performing in terms of traffic, engagement, and conversion.
SEMrush: Great all rounder. Can create projects which allow you to monitor position tracking; keyword competitiveness, tracking, volume and difficulty; organic and paid performance; social stats (such as engagement, posting, following etc); competitor insight; and much more.
Content Insight. Great for identifying your file types, metadata and page-level details such as images, documents, video, and screenshots of every page.
Of course other CRM tools such as Hubspot and Infusionsoft can also prove to be very useful. At the end of the day, it all comes down to preference (and cost).
5. Make a Decision
So now that you have collected and analyzed your content, what comes next? Depending on the goals you set in the beginning of the process you can decide to:
Keep
The best content pieces to keep are those that are currently performing well and that have value that stands the test of time, such as evergreen posts. Since not much needs to be done with such pieces, you could consider repurposing or reusing them to create new posts.
These can either be a compilation of tips, infographics, ebooks, presentations, video/audio formats of the post, etc.
Update
Sometimes our content might be worth keeping, but might need some tweaks and updates to make it perform at the level we initially envisioned. Here are some potential changes and updates you can perform on such posts:
Rewrite your content: As time passes, your writing style can get more refined, richer, and easier to read. If older posts are not performing well, and are hard for your audience to comprehend, maybe rewriting them and adding a bit more value can go a long way.
Update and enrich your content. Sometimes, you don't need to completely rewrite your article; you can just add some updated information such as current year statistics, updated results etc.
Update your Banners and CTAs. This could either include an updated version (better looking images, catchier copy etc) or completely different and more relevant to your post, pieces.
Add/update images and videos: Visual content can go a long way, not only making your content more appealing and valuable, but it can also potentially increase SERPs.
Optimize metadata: Perform some keyword research and optimize certain metadata areas such as titles, metadescriptions, H1s etc.
Update and Optimize internal links. Make sure existing links are relevant, update links to newer/better articles, and even add a few more links that might be relate to the topic.
Delete: While this should only be a last resort, there will be times that certain pieces are simply beyond salvation. The topic might be too outdated or simply not worth the time and effort to update and rewrite about. In such situations deleting is probably the safest option.
When going through this process, many content creators find that content audits can help them find forms of duplicate content. (You might want to seriously consider deleting duplicate content.)
Whichever the case, be sure to let Google know about the updates you've made by using the "Fetch as Google" option on their Search Console.
Bonus: See what others are doing…
We weren't going to add this initially since it can be a whole article on its own, but a brief mention couldn't hurt. If you reach a point of making changes but don't really know how to improve your content, or you know what needs to change but don't know what exactly to edit, just look at what others are doing.
A competitive analysis can go a very long way in optimizing your content marketing strategy. It can help you see what is currently working for others, and you can also learn from the mistakes others are making, helping you avoid ultimately taking that path.
While this is great for optimizing and perfecting your content strategy, it is not a one and done deal. What works today may in fact not work tomorrow, so periodic audits might be necessary to make sure that your strategy is constantly in good health.
What are your thoughts on content audits? Have you ever performed one? Is there something we missed? Let us know! And as always feel free to ask any questions or leave any comments bellow.
For more digital marketing insight be sure to check out the links below