You asked for it, and here it is. We're ready to launch our killer 2017 Online Business Growth contest! Here's a sneak preview...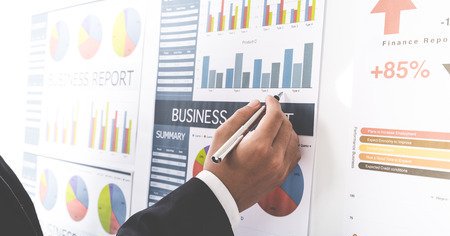 We are giving away over $69,000 worth of online marketing tools and services that can put your business growth on rocket fuel… for free!
Why We're Doing This
It's our way of thanking you for growing with us! This contest was created so we can give you, our readers, a chance to help grow your business! I know you must be thinking... is this real???
Yes! We promise you this is all real! It took long days and nights of planning to make sure you have the best resources and tools to grow your business.
Although not everyone wins the Grand Prize, as a thank you, we'll give you the exact blueprint that helped us generate 77% increase in our blog traffic!
How To Participate
Simply enter the contest and you'll automatically have at least one entry. Here's the link. The link will explain everything you need to know

But… I have more! There are a variety of simple ways to earn more entries and these entries can grow rapidly!
Since you're all our loyal readers, we will give you an additional 100 entries just by entering the code Social Fusion in the 'More Ways to Earn' section section. Click to enter now!
What You Can Win
Viral Traffic and Deep Prospect Insight Package – Enabling you to take the guesswork out of marketing!
Four incredible prizes in this package - lifetime use of a viral tool, a leading-edge process, significant visibility and one-on-one coaching all designed to enable you to gain viral traffic and use a process that gives you the art and the science behind figuring out EXACTLY what your prospects want... and then delivering it via an incredibly effective sales process
Significant Competitive Advantage Package - Crush your competition with these advantages, customized to your business!
This also has four incredible prizes in this package - lifetime use of a tool providing you deep competitive insight, a done-for-you competitive analysis highlighting what you need to know about your competition, coaching from one of the earliest LinkedIn experts on making over your usage of that tool, and finally, one 30-minute coach session to help you integrate all of these capabilities to generate sustained online growth.
... And much, much more! Here's a complete list of prizes below.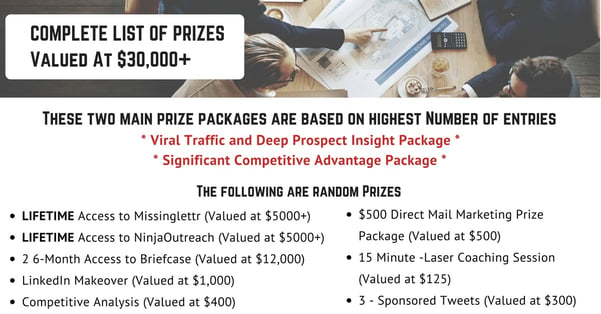 How To Win
The winners of the grand prizes will be based on the most entries but we are also giving away numerous random prizes AS WELL AS free stuff just for hitting specific entry totals.

Everyone entering will have until 11:59 PM ET on Friday, December 8th.

If "luck" is opportunity meeting preparation, then this contest gives you the direct ability to create your own "luck." Head over here now.

---
Enjoy our content? Be sure to follow us on Facebook and Twitter. For more reading on how you can make an impact with your online marketing, see the links below: