There are so many incredible online tools that you can use to optimize your SEO and assess, analyze, and improve your organic marketing campaign, so how can you be sure which one is best for your company?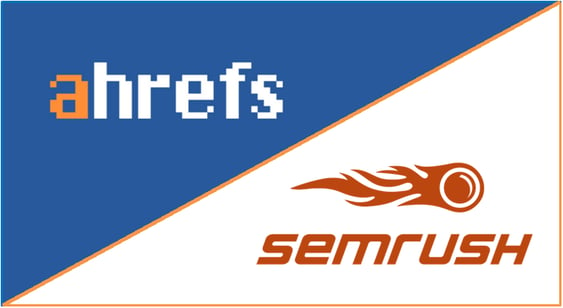 Two of the top contenders for SEO tools are Ahrefs and SEMrush. Today we are going to take a look at the unique benefits that each tool has to offer, to give you a clearer idea of which would be better for your company and your marketing team.
Ahrefs

The mainstay in Ahrefs full SEO analysis suite is in its backlink analysis. It is as easy to use as copy and pasting a site's homepage into the Ahrefs' "site explorer" bar. From there, Ahrefs will bring you to a dashboard with information on all of that site's available backlinks and metrics about their organic traffic and where it is coming from, across the web.

The in-depth tools that Ahrefs gives you into backlinks are really something spectacular, and largely unparalleled in comparison to the competition in SEO analysis.
1) Competitive Analysis Tools
What's one of the most powerful ways that you can get a leg up on your competitors' SEO standings? Build a bigger, stronger network of backlinks than they have. The competitive analysis tools that Ahrefs gives you access to provide insight into where your competitors are getting the most backlinks.
Why is this important for your business, brand, or company?
The backlinks tool gives you the ability to analyze the backlink profile of a single competitor or multiple competitors at the same time. You can also compare your company's backlink status to that of your competition. Ahrefs' backlink tool gives you a glimpse into where the highest concentration of your competitors' backlinks are coming from. If you notice a high volume of traffic coming from a handful of industry sites, what's to say that isn't an opportunity for you to reach out to those sites in order to get more links with them as well?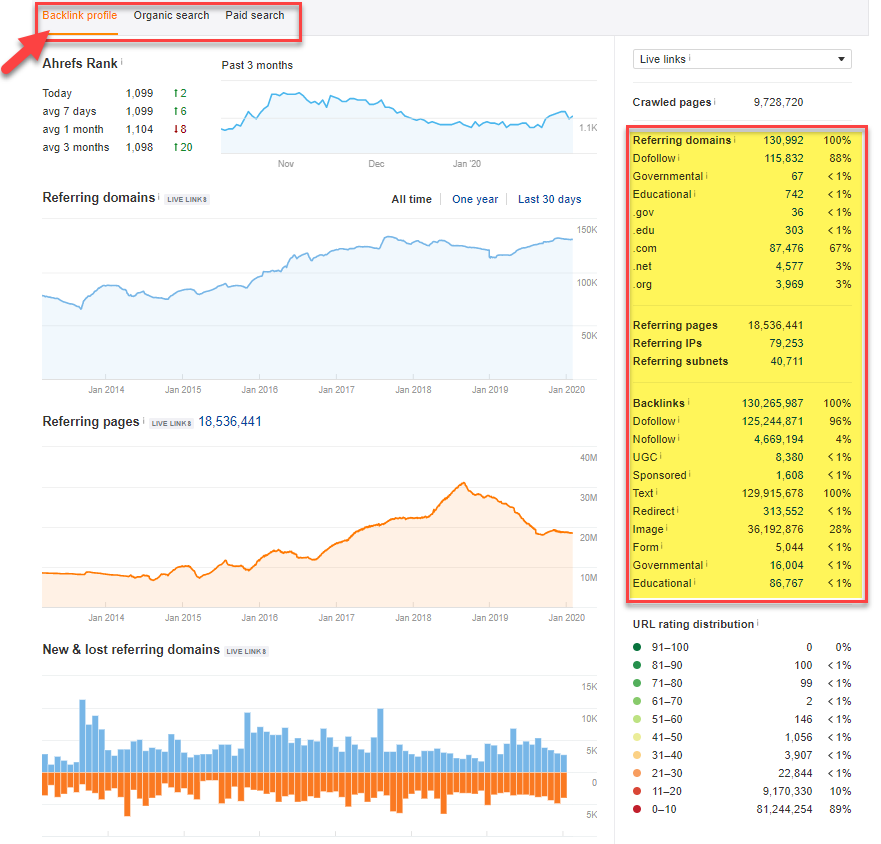 If you are covering the same subject matter or providing the same products or services as your competitors and they are getting backlinks from a particular source, there's a good chance that they'll like your content as well. The backlinks tool also lends insight into what topics, pages, and keywords your target audience is gravitating toward the most. This is the perfect way to outline your content calendar and the topics you should be covering in order to get more backlinks, higher rankings, and more relevant traffic to your website.
Ahrefs also gives you the ability to see traffic estimates and approximations for all pages that are ranking in the top 10 for specific keyword searches. You don't have to sit your team down and brainstorm keywords. All you have to do is punch your competitor's URL into their search bar, and you have immediate access to all of the top-performing industry keywords they are using.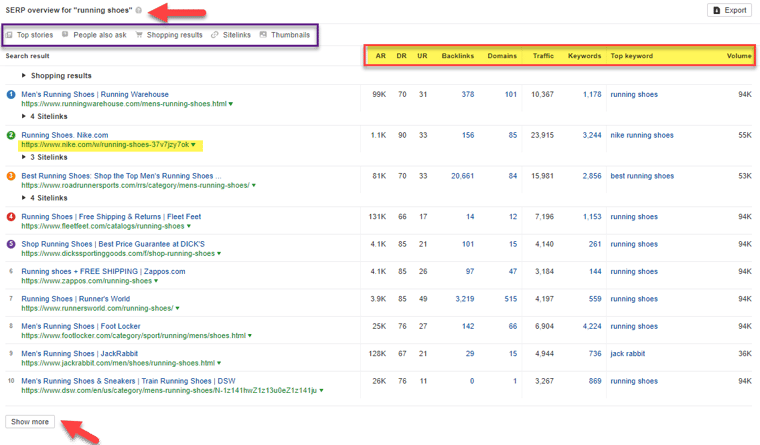 When it comes to competitive tools for analyzing backlinks, you are going to be hard-pressed to find a piece of software that does that better than Ahrefs. They have bots that crawl billions of web pages, and they update their index every 15 minutes so that you have access to the newest possible data any time you need it.
2) Keyword Research Tools
Ahrefs has the capability to generate millions of keyword ideas and provides keyword search data across 170 countries around the globe. You can use their keyword explorer to: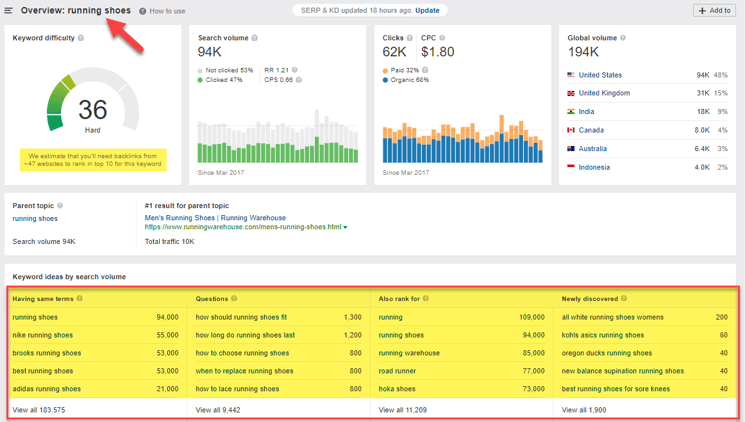 Analyze annual search volume trends for different keywords.

Compare traffic for various keywords and phrases.

Analyze click metrics, not just search metrics, to see how many users are actually clicking after conducting a search using those specific keywords.

Segment and save keywords into lists for future reference and analysis.
Another major selling point for Ahrefs is that they are adding new keywords to their database on an ongoing basis. Every month, Ahrefs uses clickstream as one of their primary sources for aggregating new keyword data. They compile this into Newly Discovered Keyword Reports. This gives your company the ability to identify opportunity gaps for keywords that your competitors and the industry as a whole may not be taking advantage of. This tool alone can lead your company to higher-ranking pages and more traffic.
3) Overall Ease of Use
The Ahrefs dashboard and its tools are incredibly user-friendly. All of their dashboards are easy to customize, navigate, and digest. You can really tell that they prioritized not only providing an abundance of helpful data but delivering it to you in a format that is easy to navigate and not overwhelming. Simply customize the type of report that you want, download it right to your computer, and export the file or print it for meetings or presentations.
SEMrush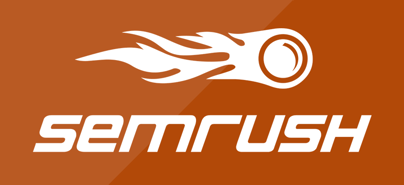 SEMrush is another industry standard in the world of SEO analysis and optimization. They actually present themselves as the leading SEO tool on the web. They got their head start in the industry and gained notoriety with their keyword research tool, the mainstay of their software suite. Since their launch, they have expanded into a host of other features and tools that help you analyze and improve various areas of your organic and paid online marketing campaigns.
1) Competitive Analysis Tools
SEMrush has several key competitive analysis tools so you can get an in-depth overview of what content, pages, keywords, and topics are giving your competitors the most traffic. Find out where your competitors are concentrating the majority of their marketing efforts, getting the majority of their traffic, and even where and how they are generating leads.
You can easily see how the top search players in your market are ranking and what their share of total keyword traffic is for the primary search words and phrases in your region, industry, etc. SEMrush's organic research tools give you the power to dive into your competitors' keyword strategy.
Any online marketing expert will tell you there is value in building a repertoire of valuable backlinks. SEMrush also provides its users with backlink analytics for your competitors. See what websites, social channels, and industry sites are sending the most traffic their way. Similar to Ahrefs, you can compare your backlink profile to your competitors, and SEMrush's backlink gap tool lets you view the websites that are linking to your competitors that aren't linking to you.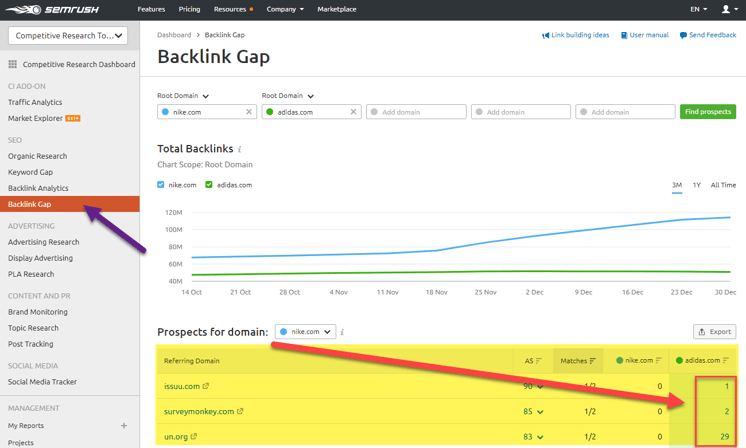 One of the biggest advantages that SEMrush has over Ahrefs is the ability to analyze your competitors' paid campaigns as well. SEMrush provides insight into who your main PPC and paid search competitors are, what keywords they are bidding on, and lets you study how they write and compose their paid ads. SEMrush's social media tracker also gives you the ability to analyze the performance of the posts and content that your competitors share to social media.
2) Keyword Research Tools
As we said, some of the primary benefits that SEMrush has over Ahrefs is that it can analyze PPC and PLA keywords in addition to SEO keywords. If your marketing uses both forms of earned traffic (SEO) and paid traffic through advertising, it may be at your advantage to look into SEMrush first, unless you already have a piece of software that you already use and are in love with for paid campaign analysis.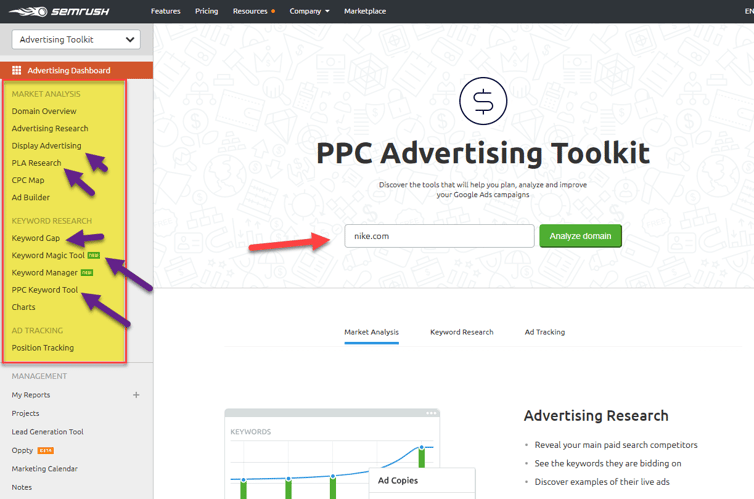 3) Overall Ease of Use
SEMrush gives you a lot of features, even more so than Ahrefs. With features that give you and your company the power to analyze organic keywords, competitor performance, backlinking, social media, and even paid advertising keywords and strategies, that leads to a lot more going on within their dashboards.
Ahrefs is noticeably easier to navigate, mainly because there are fewer options (buttons, tabs, filtering, etc.) on each page. That being said, getting comfortable with the SEM dashboard may take you a bit longer, but once you do, you are going to have access to features that give you a much broader perspective of your competitors and their campaign strategies.
Like Ahrefs, SEMrush also makes it easy to build, download, and print custom reports. Whether you need to report the progress that you've made with backlinks, rank, and total traffic, present the results of a recent marketing campaign, or show how you stacked up against your competitors last quarter, you can accomplish all of that with their software. You can even customize one-time reports or create recurring reports that are automatically emailed to you and your team on the schedule of your choosing.
Conclusion
With SEMrush Pro being $99.95/month and Ahrefs Lite being $99/month, each tool is practically identical in terms of pricing so the decision will come down to your business goals and needs. So which one are you going to be going for, and why? Let us know in the comments below! And of course if you are currently using any other alternatives, we would love to know which ones!
---
Enjoy our content? Be sure to follow us on Facebook and Twitter. For more reading on how you can make an impact with your online marketing, see the links below: