They say the best way to learn something is from your mistakes, but what about learning from the mistakes of others? That's exactly what these influencers did.. they spent hours upon hours testing and refining social media marketing strategies, and then shared their knowledge to the public via these insightful marketing books.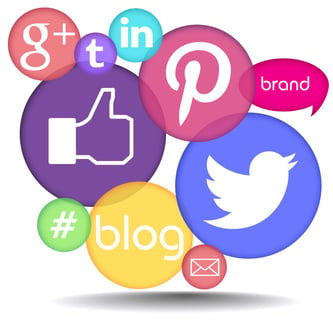 In this article we take a look at some of the most influential social media marketing books that can help business owners and marketers achieve their online goals. Without further delay, let's begin.
42 Rules for 24-Hour Success on LinkedIn
The first book on our list was created by none other than the founder of The Social Fusion Group, Chris Muccio. Packed full of rich insight, it is designed to help you leverage the power of LinkedIn to build your business strategy, generate positive awareness to your brand, engage your leads, and create trust.
"... And who do we tend to do business with? Those we trust."
This book is for you if:
You want to build your "road-map for results" using a clear and concise four part methodology

You want to find and engage with your target audience

You're looking to increase your LinkedIn effectiveness

Implement strategies and build a high-quality network of connections.
Chris adds over 100 tips, insights, and tactics in the second edition of this book, while also providing different success stories to understand the path others have used to succeed on LinkedIn.
Be sure to follow Chris and all his marketing insight over on Twitter!
The Tao Of Twitter
This book comes from marketing expert Mark Schaefer, and is perfect for business owners and marketers who can't afford to spend hours experimenting on Twitter. As Mark says, "In one hour you will know enough strategies, tactics, and time-savers to create an effective presence on Twitter that will result in meaningful and measurable benefits."
The book includes examples, tips, and ideas that are easy to implement such as:
Building your business on Twitter

How to use Twitter for a competitive advantage

Find and engaging the right audience on Twitter
Mark Schaefer has grown his own Twitter account to over 170,000 followers... He must be doing something right.
Ultimate Guide to Instagram for Business
If you're unaware, Instagram is on track to surpass one billion monthly active users in 2018. Can you imagine just a fraction of that audience trickling down your marketing funnel? More specifically, a marketing funnel that started from Instagram...
In this book, author Kim Walsh Phillips gives you everything you need to make your first dollar on Instagram. Learn how to:
Create an Instagram marketing funnel that generates revenue

Capture leads using product launches, and contests

Grow your followers with Instagram Stories... and much more!
Instagram users are hungry for content, more specifically content from your business. Why not give them what they want and make some money along the way?
To follow more of Kim's insight, you can follow her here on Twitter.
Complete Guide to Using Your Snapchat to It's Fullest: Tips & Secrets Guidebook
If
you're like many businesses, you're probably under-utilizing this social media platform. This book is perfect for anyone who doesn't know how to use Snapchat properly. If you're familiar with the tool, this might not be for you.
As one reviewer says, "I have the app pre-installed on my new phone but have no idea how to use it. Got this to learn. Easy to follow how-to instructions and the information was fairly helpful to newbies like me."
Since not many Snapchat experts have published books on the tool, we'll continue to share posts about actionable Snapchat tactics... so be sure to subscribe to our blog!
Bonus: If you're the type of content creator that loves live streams or video recordings, check out these Snapchat Spectacles here for a seamless integration.
The Wrap Up
If you're still unfamiliar, social media has been exponentially growing each and every day. With billions of active users combined, businesses have the opportunity to stand out against their competitors and reach their target audience. In the coming weeks, we'll be sharing tips and tricks on how to do just that.
---
For more social media marketing insight be sure to check out the article below: