Digital marketing is no easy task; if you're like us, you're looking for tools, tips, and tricks to get the most out of your effort. And then every once in a while, an awesome product comes out that cuts your daily tasks in half. (For me, Canva made up for my lack of Photoshop skills.)

By the way, did you know we're giving out over $30,000 worth of digital marketing tools? Check it out here!
AppSumo just rolled out the Netflix of business tools. What do we mean by this? It's a subscription service to 20+ tools that help you create, scale, and grow your business!
Your first instinct is probably, "How much does this cost?" It's only $49 dollars a month and you get access tools would normally be worth over $1,000 per month!
Since this deal looks too good to be true (but it really is real!), we decided to take a deeper look into some of the products available. More specifically, we looked at the tools for marketers and looked for "growth hacks" from each one.

1.

PixelMe
We're all familiar with how Facebook Pixels work and the power of retargeting ads to a group of people. However, it's dependent on users landing on a specific page before anything can be tracked. What if there was a tool that could place a Pixel on every link you share? This is where PixelMe comes in.
PixelMe is a URL shortener that allows you to place retargeting pixels to Google, Facebook, Twitter, and LinkedIn Ads. You have the ability to place one pixel, or all four in the same link! From here, just use the retargeting options on the individual site and that's it!
Growth Hack: insert a pixel on every link you share. Retarget those users who click your links.
Click here to learn more about PixelMe.
2.

Reveal
Running multiple Facebook Ads takes a lot of time out of your day. With Reveal, you're able to automate your efforts. The tool says, "Automate your Facebook ad campaigns using start, pause, set / increase / decrease budget and bid actions. Build custom rules using AND / OR operators, nested conditions and metrics comparison."
Woah, that's a lot to digest, so instead of explaining the details, watch this video below.
Growth Hack: Set up automated rules for Facebook and Instagram ads. Let the tool optimize your ad performance by setting parameters.
Click here to learn more about Reveal.
3.

Social Insider
This next tool is exciting! What if we told you that you can take an inside look into your competitor's digital strategy…
This is where Social Insider comes in. This tool helps your business understand what exactly your competitors are doing and how people engage with their marketing efforts. Pretty powerful, don't you think?
To better understand this, lets take a look at an example. For our illustrative purposes, we'll use Hubspot.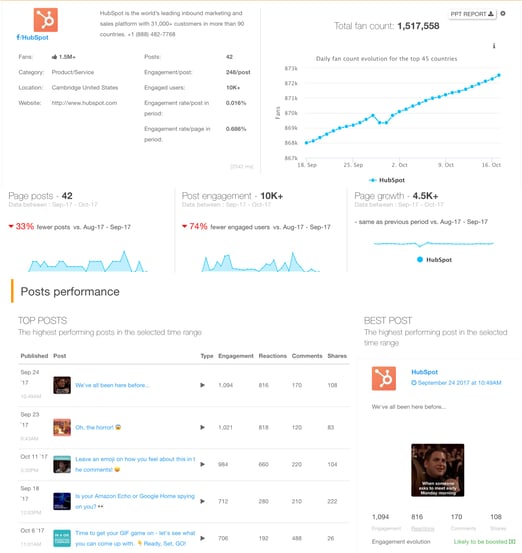 Right off the bat, we're able to see in the specific time frame:
Account growth

Engagement per post

Number of engaged users

Best performing posts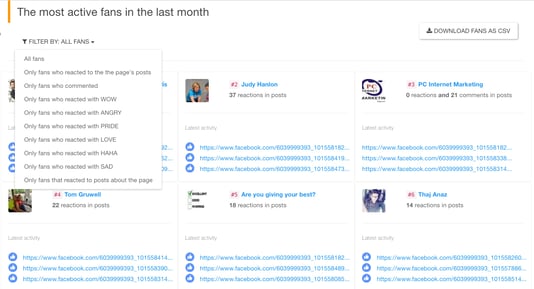 Here's what you're seeing
Actual Facebook users/profiles and how many times they engaged in the given time frame.

Links to the actual post from Hubspot the user engaged with.

Ability to download the information to excel.
Similarly, you can get insight on Instagram profiles/users. Instead of us talking about the tool, Social Insider offers a free trial for 7 days. Go ahead and check it out yourself.
The tool by itself costs $59/mo. Kind of pricey right? Remember, it's part of the Briefcase subscription!
Growth Hack: Get insight on your competitor's Facebook and Instagram strategy. Learn how they're succeeding on the platform and try to mimic for yourself.
Click here to learn more about Social Insider.
4.

Missinglettr
Blogging isn't just about writing a piece of content and hoping it'll get views and shares; you have to come up with a distribution plan. But we get it, you spent 2 long hours writing a great post and you're too tired to come up with a strategy.
Missinglettr is a tool that constantly monitors your blog. Once you publish a new post, the tool automatically sends you a social marketing campaign that you have to either approve or deny. Watch the tool in action below.
Growth Hack: let Missinglettr come up with your social media content distribution plan. All you have to do is approve or deny it.
Click here to learn more about Missinglettr
5.

SE Ranking
Last but not least, SE Ranking is an SEO software tool that allows you to get insight on your competitors. Like we saw before, what better way to strategize your business growth than looking at what your competition is doing?
Features include: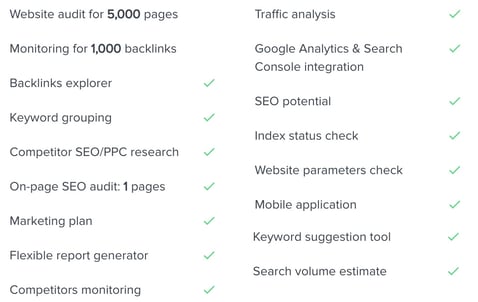 Growth Hack: learn SEO about your and your competitor's site. View and track which keywords are winnable and working, and learn how to generate more traffic via SEO.
Click here to learn more about SE Ranking.
Final Thoughts
These are only 5 tools from a list of more than 20, you can check out the complete list here. There are tools for every aspect of your business: finance, ecommerce, scheduling, and more.
---
Enjoy our content? Be sure to follow us on Facebook and Twitter. For more reading on how you can make an impact with your online marketing, see the links below: