High quality content delivered on a sustained basis is what keeps your audience interested and engaged. Seeing your brand messaging on a consistent basis keeps you at the forefront of their minds. Consider it like a conversation; as you converse and share value, a relationship will be built. A relationship creates trust and whom do we tend to do business with? Those we trust! You might know your audience online through social media platforms, but building a list that enables a consistent flow of communication is fundamental to building trust.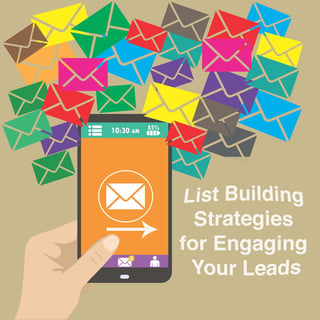 A great list building strategy is to keep yourself organized with a content calendar. This will help you maximize your planning in terms of content and achieving goals. There are online tools that work well or you can create one with a spreadsheet. Content is reusable but you need to consider where and when to reuse it, as there are potential implications if it is not done correctly. Once you have a plan, your overall approach is significantly streamlined.
As you create content, think about how well the audience knows you and how long they have been following you. If this is the first thing they will see from you, the audience is considered cold. The content should cover the pain, needs, or interests they have and offer solutions and ideas rather than tout how effective your company is at providing those solutions. As your audience gets "warmer," your messaging should adjust accordingly.
Involve Them In Your Mission
Let your audience know what your business goals are. Share success stories that other clients have enjoyed as a result of working with you. Let them know your "Big Mission" and how they can become part of it. People like to be involved with that which they helped create. An example of a business goal would be: "Our goal at The Social Fusion Group over the next two years is to help 100 businesses grow their online revenue ten-fold, be it through our education or by directly working with them."
Regardless of the temperature of the audience, the tone should be friendly and helpful because people like to do business with people they like. It is human nature to avoid people we don't like, both in business and personal relationships. Communicate with your audience as friend, treat them like a friend, and email them regularly.
To get started with list building strategies, ask yourself questions such as:
What does you engagement plan look like?

How often are you going to communicate with your audience?

What are you going to say to your audience?
EXAMPLE: CPA Mike
Remember Mike's tax planning calendar offer? In addition to producing a new calendar each year, he also publishes accounting, bookkeeping, and small business tips for his audience. He offers tax-planning advice for businesses each quarter, at year-end, and on personal milestones in life. His audience understands accounting enough to take care of the basics, but they will never be accountants or tax experts, so his advice is valuable to them.
---
For more insight on list building and lead generation, see the links below:
Download the Essential Step-by-Step Guide to Internet Marketing