This post has been updated for 2019
Instagram is a social media platform that has been growing exponentially since it was introduced in 2010. What's unique about this application is how it has developed into a platform for users to share photos and videos with their audience. With over 500 million daily active users, there's no doubt that Instagram can be a very powerful tool in your marketing arsenal.


Before we begin, we wanted to personally share an article you might find extremely resourceful (90+ content marketing tips!). You can view the post here.
I started college in 2011, right around the same time Instagram was beginning to gain popularity. I really didn't know how the app worked or the potential it had; all I knew was users posted images and their followers 'liked' it. So when I became in charge of social media marketing for a school organization, I knew Instagram had to be implemented in my strategy. That was my starting point with this social network and I'll share five lessons I learned along the way to help get more followers on Instagram.
Lesson One: Set An Objective.
What does this mean? Set goals for yourself, even if they seem too ambitious. This way you'll have something to measure against, even if you're just starting off. A motto here at the Social Fusion Group is: "Serendipity is not a growth strategy."
Answer the following questions to help you set some goals and objectives:
Who are you trying to target? (In my case, it was the student body)
What are you looking to achieve with using Instagram? (I wanted to generate awareness within my target audience)
What are your expectations at the end of one month? (I wanted more foot traffic to our events and increase our branding)
So we have an objective set, where do we go from here? I had to come up with a plan, but since I had no previous experience, I didn't know what to do. I needed to learn how to get more followers on Instagram and this leads to our next lesson.

Lesson Two: Learn From Similar Accounts
A lot of what I learned about Instagram came from mimicking other accounts that were doing the exact same thing I was trying achieve. (We wanted more traffic to our events through Instagram campaigns.) So I turned to the official Instagram account operated by the University. They had over 13,000 followers for a student body with a little over 17,000 total students. (They had to be doing something right.)
Okay, I found a similar account. What do we do from here? Now we need to setup the Instagram page, and lesson 3.
Lesson Three: Optimize Your Instagram Page
When people think of Instagram, they think of a platform for sharing high quality videos and images. This is exactly what you need to be doing. In the 3 seconds it takes a person to decide whether they want to stay on the page or leave, it's important you have your bases covered. Use the following as a foundation to build your profile:
Setting an appropriate profile picture (180x180 pixels)

Have a description in your bio (Who are you? What do you do?)

Link to your website in your profile

Post at least 1 image (I recommend 3), so when people start following you, they'll know exactly what your profile is about.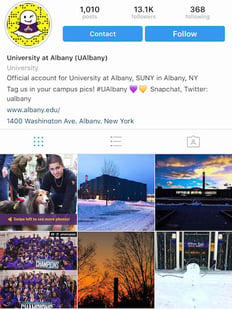 Once you have the foundation built out, you're ready to start posting on Instagram.
Lesson Four: What To Post
Instagram is a great tool to showcase your company/brand, which is why I believed it was the best platform to help increase our attendance. We were a student organization that was young and fun, we just needed to show our audience.
Instagram is a platform that can do just that. In business, getting your audience's attention could ultimately lead them to your website and potentially a sale (I'm guilty of making purchases through Instagram). So truly understand your audience.
Questions you want to ask yourself to help you figure out what to post are:
What type of images or videos would you like to see if you're in your audience's shoes?

Are my posts going to come off as spam? Or will people enjoy them?

Is it something you would want to consistently if you were a follower? Or am would you not going to bother following this account?
There's not just one type of Instagram post, there are many such as: products/promotions (in our case, event flyers), employee-centric posts (we did student appreciation posts), and cross-promotional (we would promote events of other organizations on campus.)
Let's take a look at an example of an event flyer we mimicked.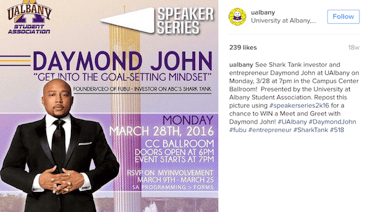 What we like about this post:
It's a post that attracts and connects the audience (students don't want to miss out on an opportunity to hear a successful businessman speak).

They're encouraged to engage with the post (students have an opportunity to win a meet and greet). This brings value to the Instagram page.

The post takes full advantage of hashtags and geo-tags to increase their social media reach.
According to Buffer, most major brands post 1.5 photos per day; or 3 pictures every 2 days. From my experience, I've noticed that you should at least post once per day; but there's no harm in posting more often. Just make sure to space out the time the images are posted through the day. You don't want to spam your followers.
The last lesson I learned to get more followers is probably the most important out of all. Instagram is driven with this final factor
Lesson Five: Engagement
Without engagement, how would you be able to quantify your marketing efforts? From a marketing perspective, the higher the engagement, the more efficient the page is.
Engagement = (total number of likes + total number of comments)
(Number of followers)
According to Union Metrics, an ideal engagement rate would be around 10%, but most people expect their rates in the 5% range. For an example, if you have 1000 followers, a typical post would get 50 total likes and comments, but a great post would get 100 or more.
In order to put in perspective how powerful the follower steps are, the current Instagram account I operate sees an engagement rate of over 15% on average.
The lessons outlined above really helped me not only establish my profile as a brand, but also helped me get more followers on Instagram. On my latest Instagram campaign, I gained a total of 21,200 new followers in a span of 2 months with the tactics listed above.
3 Common Mistakes
Losing sight of the objective
We've all done this, but it can be very detrimental to what we're looking to achieve. It's extremely easy to lose sight of your objective. One thing leads to another, and then you get to a point where you forgot where you even started.
Understanding the value you're getting
Having an audience between the ages of 18-25, it's safe to assume majority of our audience is using Instagram. If you're in a market with an audience that has no clue what Instagram is, the social media application might not be for you. If you didn't achieve what you're setting out to do, go back and review the nuances and reset your goals. There's a lot of trial and error when first starting out.
It's a process; you're not going to see results overnight
The hardest part of Instagram is probably getting your page started. It'll be in its nascence stage and just starting to develop. Don't get discourage if you don't see immediate results. It is a process; it'll take time to build.
Instagram is a powerful tool. If you use the tactics to build a proper foundation, you'll get more followers on Instagram while generating other results.
---
For up-to-date content and information, follow us on Twitter and Facebook. For more tips and tricks on leveraging Instagram for your business, see the links below!