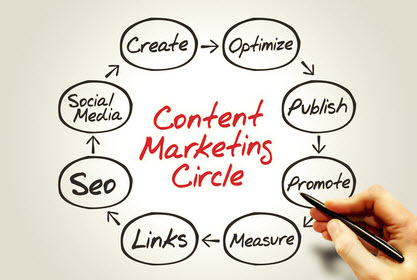 When it comes to marketing online, there's nothing better than good content. The kind that stays with you through the day, that you find yourself thinking about weeks later, that you remember when a related topic comes up in conversation—this is called "sticky content." If you want to make sure your content sticks to your viewers, there are a few areas you need to address from the outset:
Headline

Introduction or hook

Body or main content

Call to action or promotion

Conclusion
When you set out to draft a blog post, you need to put as much thought as you can into each of these sections. While it's rare to be able to make every area flawless, the closer you can get the better off you'll be.
Your Content Marketing Plan– Key Focal Points
Headline
Some gurus say that the most important aspect of your headline is searchability, but that's not all there is to it. You want your headlines to be searchable phrasing, of course, the kind of thing someone would type into Google to learn about the services you offer, but it's equally important that you be concise. Type up your blog post in your favorite word processor before you take it to your blog to get a feel for the true size of your headline with this simple formatting guideline:
Font: Arial, Calibri or another sans-serif font

Size: 14pt

Styling: bold
When you format your headline this way, does it drop onto two lines? If so, you've gone too far! According to Business Wire, 65 to 70 characters should be your maximum headline length. This makes your posts display more fully in Google search results, which can add a much needed boost to your traffic.
Introduction
While your headline may be your first hook, the intro to your post can make or break your readership. You should use this area to explain the basics of what your post has to offer, using charged and professional language, without being too "in your face." It's recommended that you use a high-quality image at the beginning of every post to increase the overall appeal of your content. According to master blogger Jeff Bullas, blogs that start with good, relevant imagery can get up to 94 percent more views than a plain text post.
Body
Here's where the value of your content is the most important thing. The body of your blog posts should always be relevant to your customers, to your industry, and to your business in particular. Maintaining a sense of authority in your main content can help make you a leader in your field, and that's where you'll find the most traffic. Make sure that your users know that they can trust what you have to say 100 percent of the time by offering valuable content.
Call to Action
This could take place almost anywhere within your content, but should generally be closer to the end—you want your visitors to read all the way through if possible, so make sure your promotion is in the most valuable spot. Send your readers to other blog posts, to your events page, to a new product or to an affiliate, just make sure you're sending them somewhere worthwhile! This is a matter of accountability, so make sure that your CTA is valuable to your clientele.
Conclusion
There are a lot of mixed signals from content marketers about how to close a blog post gracefully, but the most tried and true method is any that encourages engagement and interaction with your readers. Ask a question, invite them to an upcoming event, or urge them to give their opinion on the matter in the comments. If you can get even a fraction of your readers to join in the comments, you're that much closer to the kind of conversions you want.
Do you think these tips do justice to the process of hardcore content marketing? How many of them are you already using? There's a lot to learn about getting your name out there, this is just the first step.