One of the greatest benefits LinkedIn offers is the ability to communicate directly with your target audience. However, with over 300 million users on LinkedIn, finding one's target audience is not the easiest thing to do. It requires some planning, testing and effort.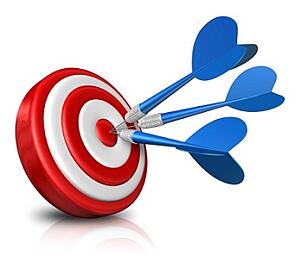 Clearly, there are many great resources to turn to for help with this topic, but one of the best ones might be to utilize SlideShare (which by the way, is owned by LinkedIn). These presentations contain a great deal of knowledge that can be used in order to enhance your own LinkedIn experience. Here are seven interesting SlideShare presentations that can help you find your target on audience on LinkedIn.
(created by LinkedIn)
A very interesting perspective (via an infographic) of what today's LinkedIn influencers looked like when they were 22. For instance:
Nearly 86% of the LinkedIn users polled are working in a professional field that they would have never imagined.
That only 2% of 22 year olds believe their most important skill is their knowledge.

This could provide insight to help you better understand how people develop in their professional lives. Thinking well out of the box, perhaps understanding how certain influencers evolve could potentially help you anticipate where to position yourself professionally to find your target audience on LinkedIn. There's quite a bit of insightful data provided by LinkedIn. You're in for a treat with this graphic.
(created by Pam Ann Marketing)
This presentation is a great introduction for LinkedIn users. It highlights the basic "Do's & Don'ts" for creating an optimal and valuable LinkedIn profile. It also features great information on how to find your target audience by using simple features built into the platform. Here are a few tips you can find in the presentation:
DO: Join LinkedIn groups and post actively. You should be sharing genuinely useful information that will engage your community.
DON'T: Join groups you're interested in. Join groups that your target prospects are in.
DO: Be sure to be strategic and specific with how you present yourself to other users.