So, you've created your article... made it search friendly, added your images, share functions and are looking for this to generate some solid awareness.That is just part of the puzzle. More often than not your article needs an additional push or amplification to get it in front of your target audience. Taken as an individual tactic, content distribution may seem like a difficult chore. However when integrated with your virtual persona, keyword and content planning, most of the difficult work has already been done. Now you need to focus on finding your audience and getting this in front of them.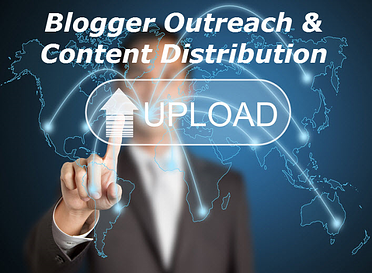 As a recent article in the Social Media Examiner examiner noted, "Bloggers have a distinct advantage when it comes to spreading your message. They have direct access to your target audience and can influence purchasing decisions with word-of-mouth marketing." Thus blogger outreach is a critical part of one's content distribution strategy.
When it comes to content distribution, there are a variety of methods, manners, tactics and campaigns. In this post, we'll share some of the best articles we've read recently to help you jumpstart your content success!
5 Tips for Developing Better Blogger Outreach
This well written article, Kristen Matthews shares five ways to promote your brand through blogger outreach.
Could Your Content Go Further? How Paid Distribution Can Help
Simon Penson, blogging on Hubspot, provides an in-depth strategic flow (with a lot of graphics) to help you build out your content distribution process.
The B2B Marketing Guide to Paid Content Distribution
In another in-depth article, Eric Wittlake shares 22 opportunities to incorporate content distribution into your paid media or advertising programs
Leverage a Blogger Outreach Marketplace and a list of 24 other tools
Do you think a solid content marketing strategy exempts your brand from needing to do outreach? Sorry, but it doesn't. Check out these 25 awesome outreach tools for your smash business strategy.
How Brands Should Really Be Thinking About Content Distribution
Gregg Freishtat of Outbrain explains the best practices in content distribution, where readers are most likely to click on article pages and more.
12 Examples of Native Ads (And Why They Work)
According to Copyblogger's 2014 status report:
49 percent of respondents don't know what native advertising is
24 percent are hardly familiar with it
Another 24 percent are somewhat familiar
Only 3 percent are very knowledgeable
So, given the lack of awareness, Copyblogger provided about a dozen examples of native advertising — and why they work.
Organic Promotion (somewhat dated, but most of the content is still pretty valid)
When it comes to content, we all want to grow our reach and authority. Unfortunately, the process requires some strategic insight. The good news is you will learn pretty quickly if you are consistently involved and working at promoting your blog. This article share ten things the author learned to be true from his experience.
Blog Promotion 101: 15 Ways to Syndicate A Blog Post
Looking for more ways to amplify your content without posting too much on Facebook/Twitter and annoying the hell out of your existing network? In this article, Brad Zomick, shares 15 places that you can promote your content.
Marketers Seek Extra Edge to Go Viral
Remington razors profiled in their use of paying for content distribution as they use content to drive awareness and consideration for new product category
These are just some of the information that is available to help you created a powerful blogger outreach / content distribution plan. What has worked for you or conversely, what challenges have you encountered as you've focused on generating more awareness for your content?