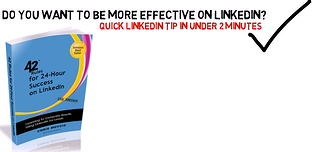 How do you become more effective on LinkedIn? In our video series, we share quick tips in under 2 minutes. Here are a couple of quick LinkedIn networking tips. One of the easiest things you can do to build awareness of your business is to effectively build connections. Just think, if you can find and properly invite just one person from your target audience every week to your LinkedIn page, you will generate 52 quality connections by the end of the year. Granted, that may not sound like a lot but once you start seeing the results of your efforts, you can easily ramp up that number significantly each week.
Ultimately, we tend to do business with those we trust, and we build that through relationships. Taking just an extra 30 seconds to personalize your LinkedIn invitation, can really make a difference between starting a relationship with a connection and immediately being forgotten by them. The more you can personalize your LinkedIn invitation to your connections and make it more relevant to them, the better your chance to relationship build with that person. We highlight this tip in our quick 2 minute video.
Want to learn how to generate more leads with LinkedIn? Click here to download our free workbook.