Business owners are always interested in reading some quick tips to help their business grow. Below, we've compiled a list of 35 tips to help create
lead generation for small business
.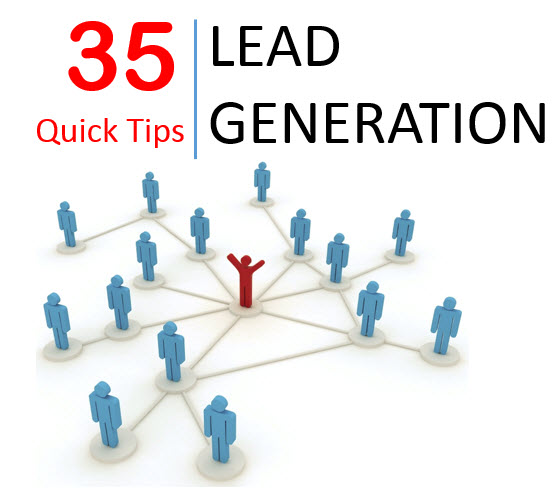 General Items
Know your target audience as well as you do family and friends - It helps to know who your customer is.
Set-up your marketing strategy - Decide your critical goals, decide how to make them happen, and when to do it
Make your website attractive to search engines - Use your blog to add current content/update engine rankings.
Create a landing page for every campaign - Make sure it flows well with all your onsite and offsite efforts
Content Marketing
Have a list of keywords researched and prioritized before creating content - Leverage keywords for SEO use
Avoid the keywords everyone is using. Use long-tail low competition keywords to get traffic to your website.
Make sure to have a strategy before adding content or making blog posts - Know the audience and the purpose.
Content creation plan - set dates, have a purpose, use SEO keywords, think long-term, publish on schedule
Leverage the blog title and meta description for SEO efforts - Make all aspects of your website content count
Focus quality content on the company's target customer – Attract quality traffic and generate qualified leads
Make your content titles count in every post – Attract attention with catchy titles and generate quality leads
Focus each piece of content on one topic – Keeps customer attention and makes them more likely to share it.
Cross Marketing
Use social channel pipelines to gain customer interest - Give tips, ideas, and offers to customers that follow
Link website content with social media - Customers will share and generate even more interest in your company.
Use Twitter, Facebook, LinkedIn to reward customers - Offer exclusive discounts to those that become followers
On a low budget? Avoid PPC. Use quality content to draw qualified people to your website and make leads.
Is LinkedIn marketing a good fit? Look for companies in your industry, create a company page, see who follows
Use subtle, effective calls to action instead of pushing the sales message hard - It will win qualified leads
Offer quality incentives to entice website visitors to become leads - Mix them up offering different options.
Make your titles Google friendly by integrating keywords. Visitors love tips, tricks, benefits, and mistakes.
Develop a lead nurturing plan before you try enticing your first lead - Once you hook them, nurture them.
Blogging - Know your audience, set the right tone, use one keyword, one topic, provide quality, obtain success
Leverage any synonyms for keywords to your advantage - Research all combinations to find perfect keywords
Organic traffic is free - Use content creation to grow traffic numbers and increase quality lead generation
Traffic / Leads / Conversions
Is LinkedIn a place to get business leads? If you are a B2B business, the answer is yes. Find out for sure.
Use PPC to get quick website traffic - Research Adwords for keywords, establish a budget, execute the plan
Turn a Like into a Lead on LinkedIn - recognize people, put your company name forward, build relationships
Use LinkedIn for lead generation - Develop a network, demonstrate expertise, build trust, open communications
Websites who need quality content - niche/specialty, low profit margin, long lead nurturing, high competition
Generate awareness of your LinkedIn profile - Take part in groups, share info, add LI profile to cards/website
A LinkedIn lead is someone you communicate with, is part of your target audience, and have profile insight to.
Generate web traffic with off-site SEO - make blog comments, do guest blogs, hand out cards, ask customers
Incentivize your lead generation plan - With reluctant leads, up the ante with discounts and package deals
After a lead converts, nurture the customer relationship with instant thanks. Can lead to future business.
Intense online content marketing benefits: quick relationship building, draw new traffic, generate more leads
For more tips, be sure to check out our website Catapult Digital Marketing or download our free Catapult Inbound Marketing Methodology for this process.