Not every business can benefit from PPC. Here are some types of businesses that
get the most value from PPC
.
PPC campaigns can generate a great deal of traffic for many business websites. But, some companies may find that the cost of the PPC campaign is too high for their business. It is important to match your traffic generation costs with your product's price point. Ideally, you will keep lowering your costs while increasing your sales.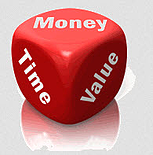 Here are some ways to decide if your business will get the most value from PPC or not:
Long Customer Lifetime Value - Many service providers, like doctors and dentists, are perfect candidates for a PPC campaign. They may pay a larger amount up front to attract the customer, but, on average, that person will be a long-term customer who brings in plenty of revenue over time. Another service provide who would benefit is an education provider like a college or university.
High Profit Margins - Businesses which sell products with a high profit margins also benefit from PPC traffic. These businesses make their profits on a lower number of sales with a higher amount of profit. With a well-designed campaign, the cost of a PPC campaign is more than justified to generate sales.
Difficult to Find Products - Difficult to find products also do well with PPC campaigns. People looking for these items often look for a long time trying to find a provider. A business that uses a PPC campaign will catch their attention quickly and are more likely to convert them to a paying customer. Plus, difficult to find items are often priced at a point where PPC costs are easy to cover.
Wide Range of Products - A company that offers a wide range of products also benefit from PPC traffic. A visitor is looking for one particular item when they come to the site. But, when visiting such a website, many visitors will buy other items at the same time. The extra purchases helps to cover the cost of the PPC campaign. This type of business is also the kind that will attract repeat visits once someone has made a first purchase.
These businesses will gain the most from PPC marketing. However, other businesses can use PPC campaigns for specific purposes. While the cost is initially high, the effects of the campaign will help boost overall traffic and sales, which justified the first costs. Here are three instances where other businesses can get the most value from PPC:
Seasonal or Special Events - These events are great times to bring new customers into the fold.
Immediate Sales - Some businesses carry certain products that generate immediate sales.
Brand Awareness - A company that wants to increase its brand awareness among potential customers would benefit from a PPC campaign.
Almost any business can find a use for PPC marketing at some point. Some businesses can use it for much of their traffic generation needs. Others may only use it occasionally to drum up awareness of a particular event or time of the year. To get the most value from PPC, it is important to understand your business model, your price points, and your cost of conversion.
Is your business a good candidate?