A social media report plays a key role in the evaluation of your social media strategy. Creating a report that measures key performance indicators that are most relevant to your business objectives can provide loads of valuable insight to either continue what you are doing or adjust your strategy accordingly.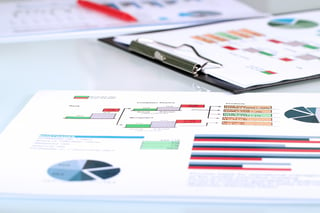 What To Measure
What exactly to include in a social media report will be different for each business, as not all seek the same results from social media. So the first thing to do is make a plan. Are you looking to gain followers? Increase your leads? Maybe brand on a new social media platform? In general, some or all of the following metrics are recommended to be included in your report:
Followers: This metric tracks the number of people who are connected to your business and follow your content. Some important things to remember are:


An effective tweet to follower ratio you should target, should be less than 1 to 1.
Same thing here... an effective target for your following to follower ratio should be less than 1 to 1.
DO


DON'T

Clicks: This number will indicate how interesting the content you are sharing is at generating traffic back to your website. Clicks can be easily recorded if you use a shortened URL (Bitly is popular along with Google URL shortener). Now you can analyze which certain topics or articles get more attention. It's also where you want to be cognizant of clickbait and implementing those techniques.

Likes/Favorites: This figure will indicate the general level of interest on individual posts or your postings over any period of time; similarly to clicks. Don't be shocked to see more likes than clicks, as many times users will only like a tweet to draw attention to their profile.
Retweets/Shares: Tracking retweets and shares will indicate both how relevant and engaging your content is to your followers and has the ability to exponentially increase your traffic and views. When a tweet is retweeted, it's exposed to a whole new target audience (the followers of the retweeter).
Content Reach: Reach numbers will indicate how many people your content has reached through impressions both organic and paid. You can analyze this data from tools such as HubSpot.
Things To Remember
When compiling your report, remember that every statistic you include should directly tie back to a goal that is set. In business, things constantly change; therefore these goals should be evaluated on a monthly basis and adjusted as needed. For an example, many businesses may have seasons that tend to draw additional attention (such as an ice cream shop in the middle of June), versus a time of the year where business slows (same ice cream shop in the middle of December). Accordingly, it's important to adjust your objectives to more realistic goals during these times.
Most, if not all of these metrics can be exported from your analytics tool of choice such as Hootsuite, HubSpot, Google Analytics, or Buffer and easily imported into your social media report template. Once you have determined what metrics will make up your social media report, it is time to decide how often you want to track your progress and growth. Most businesses choose to track either weekly, monthly, or quarterly. We suggest having monthly goals that are tracked on a weekly basis. By tracking on a weekly basis, you can adjust your tactics mid-month if you are ahead or behind of reaching your goals. Again, these timeframes are customizable to each business and the objectives in the utilization of social media.
What It Will Look Like
Here is a quick and simple social media report template to get you started on brainstorming what metrics are most suitable for your business.

Ultimately, a social media report is a tool that will allow you and your team to at a glance see where your social media strategy stands and how close you are to hitting your goals. This report is also a highly utilized tool among agencies as a form of communicating progress to their clients, as it is an easy way for clients to understand the agencies progress.
---
For more reading on social media planning, see the links below: