Digital marketing is a field that is constantly in flux with new and adapted approaches to obtaining success. Businesses who successfully employ digital marketing are consistently using strategic approaches to distribute valuable content which, in turn, drives revenue. With the right strategy, businesses can reach their target audience and accomplish their marketing goals. Here are the 19 best articles from August to help your digital marketing needs.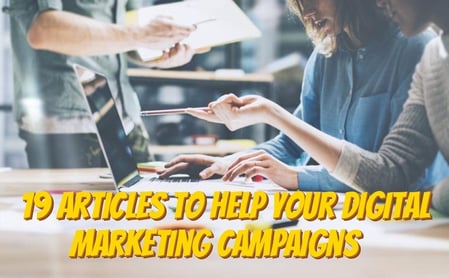 Content Marketing
They say you can't always believe everything you hear on the Internet, so who do you trust when you're seeking answers? An influencer. Here are 25 tips for becoming an online influencer in your niche.
This article titled '19 Content Marketing Tips To Increase Your Online Sales By 73%'. 73 percent?! Check out these descriptive content marketing tips that you'll definitely learn a thing or two from.
Business is all about trends, what's new, hot, maybe even declining. Joe Pulizzi from Content Marketing Institute shares his insight on the biggest content marketing trends we'll see in 2017.
A typical day is filled with routines and habits, but did you know you could use them to write better content? This article by Lesley Vos from the Moz team shares her expertise.
Mike Wood is a contributor over at Entrepreneur. In this post, he shares 7 content marketing tips every new entrepreneur should know to jumpstart your digital marketing efforts!
Whether it's business or personal, every objective or goal starts out with a plan. To help you out, Jeffrey Hayzlett over at Fortune shares 4 ways to create a marketing strategy for your small business.
Social Media Marketing
Data and numbers in the business world drive results. If you're a digital marketer, there are a bunch of different platforms and tools that can help you monitor all this information, especially for social media. So how do you combine multiple social media metrics in a single dashboard? Here's how…
Instagram is a platform that has been exponentially growing since its birth. However, there haven't been many popular tools to help enhance your Instagram efforts; but Matthew Toren shares the 5 must-have Instagram tools in your arsenal.
Earlier this month, Instagram rolled out a new feature within their application that mimics the capabilities Snapchat offers called Stories. It's not hard to use, but for a beginner, it might get confusing. Here's a guide by Social Media Examiner to help you create your first Instagram story.
Social media metrics can be difficult to decipher. This post by Jeff Rajeck titled 'Outputs, outtakes, & outcomes' helps explain the meaning behind the numbers in your social media campaigns.
Digital marketing encompasses many different aspects, one of which is branding. Without branding, how are people going to know your business exists? With social media, it's not so tough anymore. Here are 7 ways to build your brand with social media marketing.
Video marketing is a tool used by the best digital strategist; but how can you use it on social media? Here's an ultimate guide for your small business marketing.
Search Engine Optimization
SEO is a topic that needs extra care and attention. It can either really help or hurt your digital marketing efforts and online presence. Thankfully, Jayson Demers is here to help share his 10 free SEO resources every marketer should use.
How can a smart social media marketing campaign develop into brilliant SEO? Entrepreneur tells us how…
Having a multi-location business can mean having issues with duplicate content. Joy Hawkins has some advice on crafting unique, rich content for each individual location page.
One of the first concepts learned in digital marketing is how to develop audience personas. How can you use effective search engine optimization on a fundamental level to create a connection with your target audience?
SEO is very complicated and hard to understand. If you understand the basic fundamentals, here are 7 advanced tips that you might not be aware of to improve your SEO.
Is good content enough for good SEO? Check out this article by Forbes that explains why it might not…
---
For more tips and tricks in digital marketing, see the links below: